Maybe this series is better described as the Beiber effect on girls? I want to hand many of these ladies a hair brush.

The Dead-Tossed Waves by Carrie Ryan. This is what the cover was supposed to be, but it ended up being changed before publishing.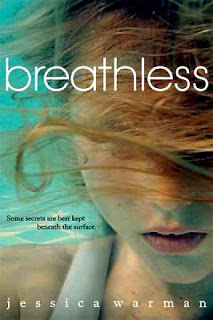 Breathless by Jessica Warman. This one's at least swimming.

Girl in the Arena by Lise Haines. I guess being ready for battle gladiator style can make your hair messy.

Banished by Sophie Littlefield. Oh how I want to push it out of her face!

The Frenzy by Francesca Lia Block. If your hair is that beautiful a color of red, I guess you can cover your face in it.

Keep Sweet by Michelle Dominguez Green. I have a feeling the girl in the story actually has longer hair than this. But I digress.

Ravenspeak by Diane Lee Wilson. Another pretty red head, but this time the hair covering her face with a horse attacking the brain doesn't even make sense.

Birthmarked by Caragh O'Brien. She looks electrified. Maybe she put her finger in a socket?
Blindsided by Priscilla Cummings at least gives us a reason: the main character is blind.
Thanks to Janssen, here's another:
It is indeed impossible to see like that.
I hope this is a trend that stops soon. You scratch up too many book jackets trying to brush their hair. I haven't even touched on the books where the wind is sweeping a girl's hair away from her face ala this and this and this.
There are more of this style flying around (oh ho ho!). Share them if you know of them.