Here's an exact copy, but with a little flipping and cropping. First: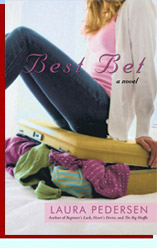 Best Bet by Laura Pedersen was published November 23, 2009 by iUniverse. I like the cover a lot. I think it sets the tone perfectly as a cozy/gentle read.

Sophomore Switch by Abby McDonald was published in paperback (the hardcover featured a different cover) February 9, 2010 by Candlewick. I think the cover on this one doesn't fit as much. I've read the book, and I think it might be a little too washed out and mellow. One of the characters is a wild child, and I don't think the top image quite captures that in her style. The bottom image perfectly captures the second girl, I think.
This one took a lot of examining to see if it was an exact match, but I think it is. The clothes are the same color and designs, and they're located in the same spots. The model's been flipped and cropped for the first one. I like both covers a lot, and I think that the one for Sophomore Switch is just different enough to stand out.
What do you think?