One of my favorite series of books is wrapping up with the final episode, Front and Center, in a couple of weeks. Catherine Gilbert Murdock's Dairy Queen series has been a very quiet set of books, receiving fewer nods than it deserves, but I think this final book may in fact help establish this as one of the best reads for girls of any age — with no foul language and a few sweet kisses as the most risque scene in book three, this will please readers and parents alike.
The Dairy Queen introduces readers to the Schwenk family, living on a farm in Red Bend, Wisconsin. And what's Wisconsin without a major high school football rivalry? The Schwenks have two college players — Win at University of Washington and Bill at the University of Minnesota — who lives to tell the tales of the big Red Bend vs. Hawley games that always bring out the towns in huge numbers.
D.J. Schwenk's the only girl on the farm, and with dad having problems and mom being so busy with work, she's become the default farm worker. But the summer before her sophomore year, Brian Nelson comes by and informs her he needs to be helping on the farm. With trepedition, D.J. shows him the ropes of the farm….and how to condition so he can become the star quarterback of the Hawley football team. Yes, THAT football team.
Perhaps the biggest problem with the Shwenk family is that they don't talk, and D.J. has a lot to say. It's with Brian she finds a companion and she finds someone she can just talk to. As D.J. improves as a football player and Brian becomes a stronger quarterback with greater work ethic on the farm, they become more than just friends — they become football rivals when D.J. becomes a player on the Red Bend football team.
What I loved about the Dairy Queen was D.J.'s fantastic voice. She's a strong girl but is so unsure of her actions and always feels weird — but she tells Brian these things. D.J.'s challenges are externally shared and I think these are all things we all feel that we're too afraid to not say. Moreover, a female football player is such a great story in and of itself, and Murdock does her readers a great service in writing a sports-filled book without bogging it down in too many sport-related details. I don't think there is a way you just can't love and admire D.J. and live with her through the highs and lows of her social life, which, by the way, involves learning that her best friend in the world, Amber, is a lesbian. Oh . . . and had a crush on D.J.
The Off Season is the second book in this series, and it picks up with D.J. being interviewed and followed by People magazine because she's a female football player and quite a butt kicker at that! In this installment of D.J.'s life, things really begin looking down: she injures her shoulder and must make a very important decision about whether she will continue playing football and potentially ruin her future as a basketball player (something which she thinks might be her only way into college since, well, she isn't very good at English and doesn't have the best grades — it's not that she's dumb at all, it's just that being in charge of the farm really takes a lot of her time away from homework).
Moreover, the story in People may have just ruined her friendship with Brian.
Although these are huge challenges for D.J., the biggest comes during a University of Washington football game that the Schwenks had gathered around to watch over Thanksgiving. To save this from being a spoiler, I won't say what happens but that her life is turned upside down, and D.J. is once again reevaluating her role in her family and her future. Oh, did I mention, too, that the Schwenk farm is bleeding money and that Amber, D.J.'s best friend, has been traveling the country with her new girlfriend Dean?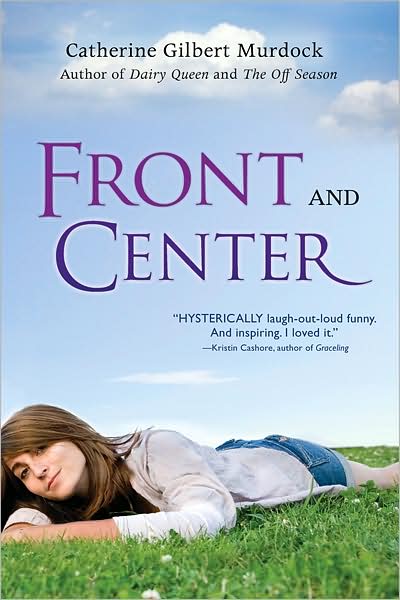 The Off Season developed a lot of challenges and resolved few, making room for the final installment of this series, Front and Center. It's D.J.'s junior year of high school, and after choosing to pursue basketball as her sport, she's being told from her coach she needs to step it up as a leader on the team if she ever wants to be recruited by a college. But where will she go? Will she go at all? With the trouble the family has financially, the only hope is a full scholarship.
D.J. struggled in this book with her desires for a relationship with Beaner or with Brian — yes, THE Brian Nelson. More importantly, D.J. doesn't think she wants to go on to play ball at a Division 1 school. After visiting the University of Minnesota last year and again this year and watching the pressure these players feel from tens of thousands of fans, she feels it might be safer to go to a Division 3 school where she can play for fun, rather than feel the pressure to perform.
Of course, D.J. is offered two full rides from two very different schools that each have their strengths and weaknesses and she struggles with the decision to go at all. This is perfectly overlaid with the relationship struggles she's feeling and the challenges at home. This book makes D.J. so human and so relatable, that with every page I wanted to be her best friend and her cheerleader.
It is Win, D.J.'s brother, who ends up helping her make the most important decision of her life, and it is he who ultimate changes her way of thinking about herself and her life. But it's not JUST Win, it's everyone in her life, including Amber and Brian, and mom and dad Schwenk.
The Dairy Queen series is one that I think all teen girls should read. D.J. is such a good kid, but she has challenges in her life that all teens do — and she is able to make solid, strong decisions in ways that teenagers can, too. Her family's not perfect, but she is able to see them as people and understand why they do what they do and why that's necessary. She's funny and likable in so many ways. She's empowered but vulnerable, and she's not afraid to be either one of them. D.J. is a perfectly imperfect person. Murdock also weaves in a story of homosexuality that is well done and so realistic without being flat or stereotypical. Bravo.
I listened to the first two books on audio and commend them for those productions. The voice of D.J. is perfect, and throughout my reading of Front and Center, I couldn't imagine her sounding any other way. I can't wait to listen to this one again when it comes out on audio.
If you haven't picked these up yet, please do. Now that the series is complete (well, okay, it will be in October), it's the perfect series to recommend to readers looking for something with a strong character, great plot, and that will remain with them for a while.